Goodreads: The Bookish Life of Nina Hill
Genre: Contemporary Romance, Contemporary Fiction
Panda Rating:

Meet Nina Hill: A young woman supremely confident in her own…shell.

The only child of a single mother, Nina has her life just as she wants it: a job in a bookstore, a kick-butt trivia team, a world-class planner and a cat named Phil. If she sometimes suspects there might be more to life than reading, she just shrugs and picks up a new book.

When the father Nina never knew existed suddenly dies, leaving behind innumerable sisters, brothers, nieces, and nephews, Nina is horrified. They all live close by! They're all–or mostly all–excited to meet her! She'll have to Speak. To. Strangers. It's a disaster! And as if that wasn't enough, Tom, her trivia nemesis, has turned out to be cute, funny, and deeply interested in getting to know her. Doesn't he realize what a terrible idea that is?

Nina considers her options.
1. Completely change her name and appearance. (Too drastic, plus she likes her hair.)
2. Flee to a deserted island. (Hard pass, see: coffee).
3. Hide in a corner of her apartment and rock back and forth. (Already doing it.)

It's time for Nina to come out of her comfortable shell, but she isn't convinced real life could ever live up to fiction. It's going to take a brand new family, a persistent suitor, and the combined effects of ice cream and trivia to make her turn her own fresh page.
The Bookish Life of Nina Hill was just as quirky and relatable as I expected and I enjoyed every minute I spent with Nina Hill and the odd mix of characters we encounter in this book. This was one of the more hyped books in the last few months on bookstagram, which intimidated me for a while (hype and I have a love/hate relationship), but I'm glad that I took the plunge and finally read it!
"It also meant she thought of books as medication and sanctuary and the source of all good things. Nothing yet had proven her wrong."
I'm not sure what expectations I had going in, but the writing style was very different to what I expected, though not necessarily in a bad way. It definitely enhanced the quirkiness of the story and fit it quite well, but I'm not sure if I'd prefer or enjoy this style in a different book. As this was a character driven story, there wasn't much in the way of a plot. We follow Nina as she navigates having her perfectly structured world turned completely upside down with the introduction of family members that suddenly appear in her life, difficulties at work that could lead to the loss of her safe space, and Tom: #1 trivia nemesis turned potential love interest. The writing was simple, engaging and infused with great humor, which had me speeding through the pages and made it an even greater pleasure to read.
There was so much friendly banter between all of the characters and it made me feel warm and fuzzy inside, as as much as I was constantly smiling and laughing at their interactions. I really enjoyed meeting Nina's many siblings and nieces/nephews. Peter was sassy, smart and I loved how he so readily embraced and accepted Nina. I also ended up really liking her brother Archie, but especially sweet little bookish Millie! Although I was initially unsure of how I felt about Nina's character, she quickly grew on me, as did most of the others, and by the end I don't think there was one I disliked (surprisingly). As a fellow bookworm and appreciator of all things bookish, but also as someone who really appreciates structure, it felt at times that Nina Hill's story was picked right from my own life; obviously I related to her a lot. What I enjoyed most about Nina was that although she preferred being alone with her books, she still kept up a very busy and active social life — trivia nights, book clubs, yoga etc., and even though she was an introvert she never actually shied away from doing things that I personally would've panicked to get out of (i.e. go to a wedding alone). I really admired those traits in her and it was a refreshing perspective to see in a fellow bookworm!
"Being with you is as good as being alone."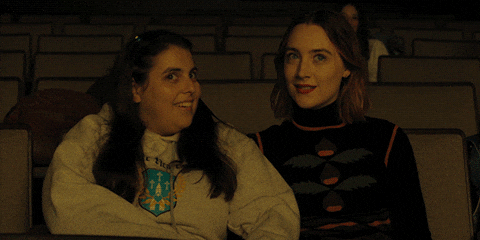 The romance aspect of Nina's story also had me in giggling fits! The interactions between Nina and Tom were sweet but incredibly awkward at times. I loved that we got to see both of their thoughts during these interactions because it made it all the more hilarious and it endeared me even more to their characters. Their relationship is really a case of where opposites attract, and I thought Tom was such a sweetheart of a character. I do wish we got more personality from him, but he seemed like a really sweet guy that I wanted to give endless hugs to? I found it really adorable how he was so smitten by Nina!
"Being surrounded by books was the closest she'd ever gotten to feeling like the member of a gang. The books had her back, and the nonfiction, at least, was ready to fight if necessary."
I was thoroughly entertained throughout Nina's story. I honestly didn't look too much into the believability and ease in which things happened because of course, life never falls so seamlessly into place as it does for Nina. BUT I still loved it because who doesn't love a story about a character who's so much like yourself? Especially when they get happy endings! Overall, this was the perfect fluffy read that I know many book lovers will get a kick out of reading.
Have you read The Bookish Life of Nina Hill? What did you think?
Let me know in the comments and let's chat!