Goodreads: Bitter Falls (Stillhouse Lake #4)
Publish date: 21 January 2020
Publisher: Thomas & Mercer
Genre: Mystery & Thriller, Crime, Suspense
Panda Rating:

She's investigating a cold case no one else could—by going places no else would dare.

In spite of a harrowing past still haunting her, Gwen Proctor is trying to move forward. Until a new assignment gives her purpose: the cold-case disappearance of a young man in Tennessee. Three years missing, no clues. Just Ruth Landry, a tortured mother in limbo. Gwen understands what it's like to worry about your children.

Gwen's investigation unearths new suspects…and victims. As she follows each sinister lead, the implications of the mystery grow more disturbing. Because the closer Gwen gets, the closer she is to a threat that looms back home.

In a town that's closed its ranks against Gwen; her partner, Sam; and her kids, there's no bolder enemy than the Belldene family—paramilitary, criminal, powerful, and vengeful. As personal vendettas collide with Gwen's investigation, she's prepared to fight both battles. But is she prepared for the toll it could take on everyone she loves?
Bitter Falls is just as intense and action packed as the first three books in the Stillhouse Lake series. Once again we're swept up in a high-stakes thrilling drama as Gwen and her family face harassment from a town that shuns them, harrowing messages from trolls that want to see them grievously harmed, and getting caught in the cross-fires of the latest case that Gwen has been assigned in her new job. I've been a big fan of this series ever since I read the first book and I've truly come to appreciate all the main characters (Gwen, Sam, Lanny and Connor), as well as the recurring side characters in the series (Javi, Kezia, Agent Lustig etc.)
I read this book in one day as once I started it was easy to not want to stop reading. There's something about thrillers that involve cults that always quickly reels me in 😂 Cults and their fanatics are absolutely terrifying and the one in this book was no less! Cain is really a master storyteller. I felt each moment of terror, rage, helplessness and relief that the characters experienced in the story. The first two books were told from Gwen's POV, but Bitter Falls continued with alternating POVs from the family, as it was in book three. What I absolutely loved was how Caine brings out such distinctive voices in each of her characters and what surprised me was that my favourite POV was from Connor. It's so easy to forget that Connor is only a young teenager especially with the all the trauma that they've experienced but his character goes through great growth in this story and I was really rooting for him!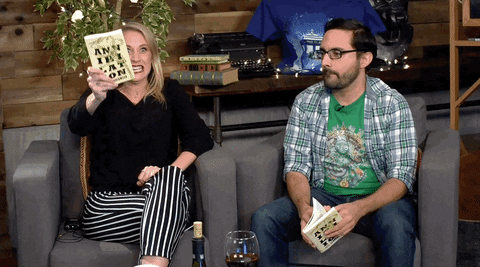 That said, there was a certain point where I found myself getting a little frustrated with the repetitiveness of certain plot lines. The harassment, hatred and malice that is spewed at Gwen and her family is something that I wouldn't wish on the worst of my worst enemies, and I can't even begin to fathom what it'd be like to face an endless barrage of it day after day. However, after three books where the same course of these events are repeated, I feel like it's started to become a little… too much? Oh, I still get absolutely infuriated on Gwen's behalf when it happens (so much so that I sometimes want to throw my Kindle across the room!), but I was honestly hoping that after book three, the family might find a little peace and people would be more chill towards them. Similarly, I also found myself getting frustrated as one bad event after another continued to happen to this family. I get the need to fuel the drama but it honestly started feeling a little too unbelievable. Like, there's no possible way that anyone, no matter how unlucky or mired in controversy, can go through this much drama. No way! The whole time I just kept thinking: damn, this family really can't catch a break! And I think it just really tired me out…
Overall though, Caine delivers a fast-paced thrilling drama that I know many people will continue to love. Although I've been a fan from book one, I think that maybe I've just outgrown this series now, so I think that this'll be the last book I read in the series, at least for now. I'll definitely miss the characters but the OTT drama gives me too much stress 😂 I would still highly recommend at least the first three books to those who are looking for a fast-paced and action-packed thriller because it really is so good!
Thanks to NetGalley and publisher Thomas & Mercer for the e-ARC in exchange for an honest review. This book is now available!
Have you read Bitter Falls or the Stillhouse Lake series? Is it on your TBR?