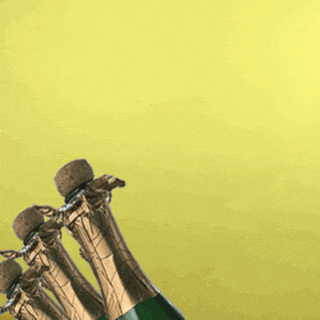 HAPPY NEW YEAR, BOOK LOVERS AND FRIENDS!!!
The last decade has been a helluva journey that's been full of both high-highs and low-lows. I still can't believe that we're already starting a new decade, but I hope that it's brilliant for all of you. I hope the year ahead is full of light, love, happiness and peace. And of course, all the very bookish things!
So it's time for December's last WWW Wednesday, a weekly meme hosted by Sam @ Taking On A World of Words, which means I'll be answering these questions:
What did you read last?
What are you currently reading?
What will you read next?
What did you read last?
With all the family time and holiday festivities fully under way over the last week, it's not surprising that I haven't been able to read much. I think I ended the year on a pretty good note though. I finished The Folk of the Air series and I surprisingly enjoyed The Queen of Nothing the most in the whole series.
The Wicked King (The Folk of the Air #2) by Holly Black ★★★½
I continued to struggle with connecting to the characters in this series. I don't feel any attachment or fondness for them and it honestly made the read a little … Meh? Although I did enjoy the story itself. The world building continued to wow me–the politics, the customs, and really all of faerieland in general is pretty amazing! My interest was fully piqued by the end though and I quickly wanted to know what happened (hence why I picked up QoN right away)! Read my full review here.

The Bone Houses by Emily Lloyd-Jones ★★★★☆
I knew that I would enjoy this but I didn't think I'd enjoy it so much that I'd hate to put it down for even a second. This was a fast-paced fantasy that was a little light on the horror aspect despite being about zombies; it was just the right touch of creepy but I was still able to read it alone at night, which says something as I'm a certified chicken. I loved the characters (and the goat!) and the Welsh inspired story. It was fairly predictable but it was still highly enjoyable! I would highly recommend it if you're looking for something a little different! Read my full review here.

The Queen of Nothing (Folk of the Air #3) by Holly Black ★★★★☆
Well, this series ending had me feeling surprisingly emotional towards characters that I didn't give a second thought to in the previous books. The world building continued to stay strong even in this final book. Since I was able to form more of a connection to the characters in QoN, it was definitely a more enjoyable read. It was fast paced but the ending did feel a little too neatly wrapped up and rushed. Still, it's a pretty satisfying ending to this series! Review coming soon.
What are you currently reading?
The fast approaching end to the holiday festivities and season has put me in a bit of a funky mood lately and I've started three vastly different books but I'm not so sure that I'm in the right mood for any of them. I may be feeling a little cynical and jaded and that could be contributing to my weird mood, but mostly I think I'm just tired of all the gatherings and social interactions that I've been throwing myself into for the last two-three weeks! I'm hoping that I'll be able to stick these three out to the end. I'm actually doing a buddy read for The Most Fun We Ever Had so it's gonna happen!
What will you read next?
Again, since I have no idea what kind of mood I'm in, I'm not really sure what I want to read next. I actually started The Perfect Date last week but … Oh man, it's SUCH a struggle to get into, especially since the male characters love to objectify women and how it's written is just gross. Like, really? Is it attractive to make your characters sound like that? I'm sure this is the part where I should just DNF the book but … It's an backdated eARC and I'd feel even worse DNFing it (…if I miraculously decided to start DNFing this year)! What do y'all think I should do?
Are you currently reading anything this busy week?
Happy New Year, friends! May you have a fabulously bookish year 🙂